Some of the TOPS members attended the Haunted Marietta Paranormal Expo at the Lafayette hotel in Marietta, Ohio. Despite the cold weather and slippery roads, the parking lot was almost full! That's a great sign that we are going to enjoy the convention. The ballroom was utilized to its fullest! Events for speakers and vendor tables filled the room. The majority of the tables were paranormal groups from West Virginia, Pennsylvania and Ohio. Other tables had jewelry, haunted items, photographers, Reiki and Haunted Marietta table.
The staff were amazing and checked us in quickly, gave recommendations and directions on where to go. We were told to try out the history tour of the hotel for $10. The young women dressed in costume led us around the first floor and basement. She didn't skimp out on the ghost stories.
You'll want to ask about the "grinning man"! Jennifer and I brought our Ovilus and an ITC phone app. The hotel has had a lot of tragic events from fires to floods. When we were in the basement, the words "Chief" and "boy" appeared on the Ovilus right after the tour guide told the story of a young boy trapped in a room during a fire.
Jennifer asked the tour guide what room is the most haunted. The tour guide said the whole hotel is! However, she did mention the 3rd floor has a lot of stories. Tragic stories of deaths to hotel guests seeing apparitions and their items moving in their hotel rooms. Most of the staff have seen activity in the lobby and basement. Most haunted buildings we have investigated always have a story of a child falling down the stairwell. Lafayette Hotel has a sad story about a staff's child playing hide and seek with her father, then falling over the guard rail.
The first floor has several pictures on the wall showing the history of the hotel. There is a bar that Jennifer and I tried their onion soup and drinks. The hotel has a Starbucks and a restaurant called the Gun Room that is currently under renovations. This is a great place to stay when you don't want to venture out into the cold for lunch! For $10, it was worth driving 2 hours to visit the expo.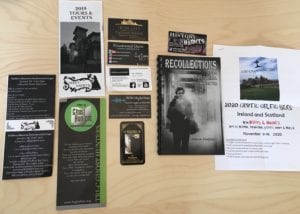 Archive of the Afterlife
https://archive-afterlife.weebly.com
Hidden Marietta
https://www.hiddenmarietta.com
History & Haunts by Annie Tarpley
https://m.facebook.com/History-Haunts-357628701100973
Iron City Paranormal
https://ironcityparanormal.com
Lafayette Hotel
http://www.lafayettehotel.com
Mid Ohio Valley Ghost Hunters
http://midohiovalleyghosthunters.weebly.com
Paranormal Quest
https://www.youtube.com/user/ParanormalQuestDRS
Tri-C Ghost Hunters
https://www.tcghohio.org
UnsilenttheSilence
https://unsilentthesilence.wordpress.com